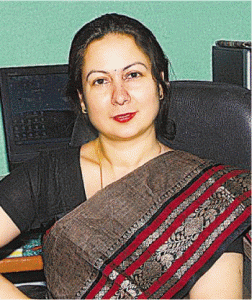 Dr Simmi Gurwara is a Professor of English in the Department of Languages, SASSBS, Subharti University, Meerut, Uttar Pradesh. She has penned academic books, research papers, articles, short stories and poems that have been published in reputed national and international journals, magazines and newspapers. Creative writing has been her forte.
She has extensive media related experience to her credit. She is the script writer and commentator of 4 documentary films commissioned by Films Division (Govt. of India). She is the concept writer of a Hindi feature film "Coffee House" that was screened at prestigious Cannes Films Festival in France in May 2009 and also at the Film Festivals held at Mumbai, Chennai, Goa, Dubai and Iceland. She has worked as translator and dialogue writer of bilingual documentary and crossover films.
She is a Lifetime Member of EFSLE and also one of the Executive Council Members (ECM) of its Delhi-NCR Region.
Email: simmi.gurwara2009@gmail.com