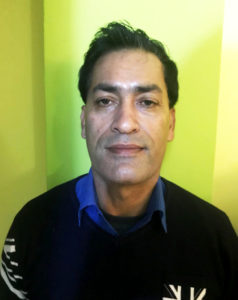 Parshuram Sharma (Parshu Dahal [Pen Name]) is a prolific writer, betraying his stern and strict countenance that his job as a police officer demands, or so is a police officer generally expected to wear. He is an avid reader who loves solving puzzles and mysteries with Sherlock Holmes. When not discharging his duty as a police officer, Parshuram either voyages into the wonderful world of stories brought to life by his favourite authors – Sir Arthur Conal Doyle, Edgar Allan Poe, Anton Chekhov; or indulges in weaving stories for which he is widely known and respected in the literary circle.
His debut book 'The Lama Who Never Was' which is a collection of eight short stories, published by Patridge India has been a success, earning him many readers across India and Nepal. Parshuram Sharma lives with his wife Sitalika Bhujel Dahal and two daughters – Raj Laxmi and Dibya Laxmi. The canine member Mimi completes his family.
He has a great concern with the issues related to the areas covered under the LEGH Movement. He is also a lifetime member of EFSLE and also an Executive Council Member (ECM) for its Sikkim Region.
Email: dahalparshu@gmail.com