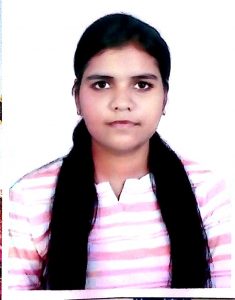 Arundhuti Singh resides in Berhampur and she is 25 years old. She is currently pursuing her M.phil in English from Berhampur University. She has completed her Post Graduation in English from Khallikote University, Berhampur. Her area of research is Ecocritical interpretation of Amitav Ghosh's works. She is doing her research under the supervision of Dr. Balabhadra Tripathy in Berhampur University
She is an avid reader. She has participated in various literary competitions and has won laurels for her institutions. She posses good leadership skills. She was the Vice-President of Student's union in 2013 of SBRG Women's college, Berhampur. She is a voracious speaker. She loves travelling, and tries to explore different shades of nature. She is an animal lover. She is quick learner and gives her best foot forward. She is a well rounded individual who lives with passion, dedication and grace.
She has enthusiasm for gaining knowledge. She has a very neutral perspective towards analyzing matters. Her never dying spirit makes her apart from others. She aims to bring the sidelined matters to forefront through her works.
She is a lifetime member of EFSLE and she has also been appointed as one of the Coordinators for its Odisha Region.