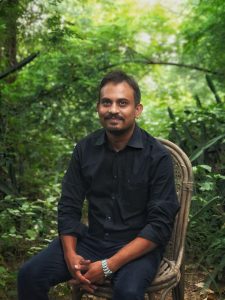 Amit Ranjan has a PhD and an MPhil, both from JNU.  His doctoral research about John Lang, a 19th century Australian writer, lawyer and journalist engages with rich primary archival material; and it throws new light at mid-19th century British empire vis-à-vis the characters of "interlopers" like Lang. Amit has published on this subject in academic journals, as also in various newspapers; and a non-fiction book on Lang is due for publication early next year. His collection of poems, Find Me Leonard Cohen, I'm Almost Thirty has been published recently. Another book due for publication next year is a biography of poet-prince Dara Shikoh.
Amit will be Fulbright Scholar-in-Residence at Florida International University in 2019.  He was a Fulbright FLTA scholar in 2015-16 at the same university. He has also been a recipient Endeavour Research Fellowship of Australia, as also the Inlaks Research Grant, courtesy of which he was a Visiting Fellow at UNSW, Sydney.  He was also delegate at Australia India Youth Dialogue, 2015, and a writer-in-residence at Sangam House Writers' residency, 2010. He also holds the honorary position of Australia Awards Ambassador, conferred by the Australian government. He has taught literature at colleges in Delhi University, the last one being St Stephen's; JNU, Jamia Millia Islamia, and FIU.
As a creative writer, Amit has been a curious cat lured by cemeteries and symmetries. His poems, short stories, and essays have been published in various journals like La Zaporogue, Anti Serious, Cold Noon, Muse India, The Equator Line etc. Recently, his chapter in a book on demonetization charting a cultural history of the phenomena has received very good reviews. Amit also has written four plays, two of which were performed in Delhi, Calcutta and Tunisia; with him also acting in both. Ranjan currently teaches literature at Miranda House, Delhi.
He is a lifetime member of EFSLE and also an Executive Council Member (ECM) for its Delhi-NCR Region.