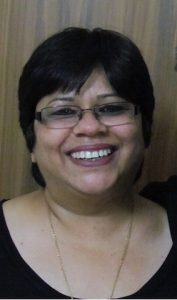 Dr Prem Kumari Srivastava is an Associate Professor of English, Maharaja Agrasen College, University of Delhi. With a doctorate from Dept. of HUSS, IIT, Delhi and teaching and research experience of more than 27 years at IIT, Delhi and University of Delhi since 1986, she was also (till May 27th 2015) the Programme Coordinator (Humanities & Social Sciences) at Cluster Innovation Centre, University of Delhi (on deputation from MAC since August 2013). With more than 85 publications [books (authored and edited) research papers, book chapters, review articles, translations and creative writing: poems and stories] Dr Srivastava's noted published books are Leslie Fiedler: Critic, Provocateur, Pop Culture Guru (2014) McFarland publishers, North Carolina, USA; collection of poems, Standing by the Wayside  (2015) Poetryspace, Bristol, United Kingdom; co-edited volumes, Cultures of the Indigenous: India and Beyond, Vol. I, De-territorialising Diversities: Literatures of the Indigenous and Marginalised, Vol. II (2014), and Re-storying the Indigenous and the Popular Imaginary, Vol. III(2017)and Spiritual Ecology and Sustainability: Practice and Confluence(2017)Authorspress publishers, Delhi, andco-edited & co-authored Language, Literature and Creativity (2013), Orient Blackswan, Delhi. Prem has edited journals such as PoetrySpace, (Sept. 2015) Bristol, UK, Literaria (2014-15), Creative Forum (2003) and several issues of Fortell (2010-15), Delhi, the latest being the special issue, no. 35 on Assessment of Fortell in July, 2017. She is also on the Editorial Board of most of these journals. Her recent co-edited book is Revisiting American Literature-Select Short Stories and Poems (August 2018), brought out Macmillan Publishers, New Delhi.
She is a recipient of many post-doctoral fellowships and awards:  'Fellow' Salzburg Global Seminar, Austria (2014); 'Shastri Fellow', Shastri Indo Canadian Centre (SICI) and D'FAIT Canada (2010); 'Fellow' of Developing Countries Research Centre, University of Delhi (2009-15); Post-doctoral Fellow at ACAS, OUCIP, Hyderabad (2010-11) and 'Fellow', Institute of Lifelong Learning, University of Delhi (July 2008-December 2009)
She is a lifetime member of EFSLE and also an Executive Council Member (ECM) for its Delhi-NCR Region.