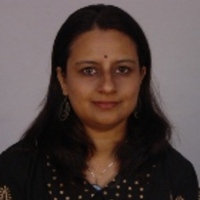 Dr Meera Baindur is an Assistant Professor at the Centre for Philosophy and Humanities, Manipal University, Manipal, Karnataka. She has completed her Doctoral research in the interdisciplinary area of environmental philosophy from the National Institute of Advanced Studies, Bangalore. (Manipal University) 2005-2010. She is the recipient of prestigious DAAD scholarship, October–December, 2009 and she also participated in the student exchange program with Freie University, Berlin, Germany. She has visited Exeter University for International Summer School on "Leadership and Global Challenges" United Kingdom in 2010. (Recipient of Exeter University Presidential Scholarship grant for the Summer School)
She is a seasoned academician who has a vast range of areas of interest that include the following:
Philosophy: Indian philosophy both traditional and modern philosophy, Philosophy of religion, Hinduism, mythology and narratives. Reason and senses, and morality in Indian thought, Anthropology of religion, religions in practice, rituals, existentialism and ontology, feminist Studies.
Environmental philosophy and environmental humanities: conceptualisation of nature in Indian thought, ecological and environmental ethics, cultural geography, place studies.
Environmental sociology and ecology: conservation, urban environmental issues, environmental justice, ecofeminism, indigenous and alternative perspectives on environment, environmentally displaced people and refugees the modern world.
Interdisciplinary areas: Indian history and literary traditions and Indian psychology, Health and culture, medical humanities and ethics, livelihoods and social justice, sustainability and leadership.
She is a lifetime member of EFSLE and she has also been appointed as the Joint Secretary for its Karnataka South Region.