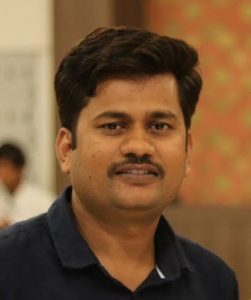 Dr Ramkishan Bhise is an Assistant professor of Communication skills at SIES Graduate School of Technology, Nerul, Navi Mumbai. He is the National Joint- Secretary for English Language Teachers Association of India (ELTAI). He has been invited and participated as plenary speaker in two panel discussions and chaired one of the panels in the APSFCon (Asia-Pacific Science Fiction Convention) organized by Future Affairs Administration (a.k.a Guokr Publishing) on 19th and 20th May of 2018 at China Science and Technology Museum of Beijing, China. He has been awarded with State & National Level "Mahatma Joytirao Phule Teacher Award" for Educational and Social awareness in society by Dr. Panjabrao Deshmukh Rashtriya shikshek Parshid, Maharashtra on 11 November 2018.
He has been elected as National liaison, Asia Science Fiction Association representing the Indian SF communities. ASFA has established at 19th of May at APSFCon in Beijing and the president of the association is Mr. Liu Chi Xin. Members are representatives of China, Egypt, India, Japan, Korea, Malaysia, Philippines, Singapore, and Vietnam. He has organized National, International level seminars, conferences and also organized National level workshop for English language fraternity. He is an Editor and Editorial board member of different and National and International journal. He is also the NSS Area coordinator of Navi Mumbai (Mumbai University).
He is a lifetime member of EFSLE and he has also been appointed as one of the Executive Council Members (ECM) for its Maharashtra Region.