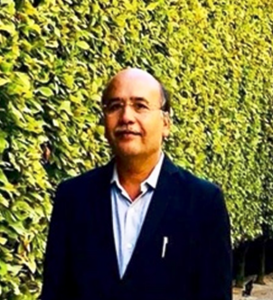 Dr. Sarvesh J. Gautam is presently working as garden superintendent in Surat Municipal Corporation, Gujarat, India.  He has contributed immensely in the beautification of Surat city and has initiated many projects for promoting environmental awareness among people.  He also had worked in Aspee College of Horticulture and Forestry as technical officer and research associate. His research work on Sapota has been acknowledged as one of the significant works. He has earned two awards for his contribution in the field of horticulture. He has many national and international research papers to his credit. He has co-authored one book entitled Text Book of Agroforestry from Oxford and IBH, New Delhi in 1993.
He has taken various initiatives like Urban Horticulture, Horticulture Nursery, Urban Horticulture Centres, Organization of National Horticulture fair, City Beatification, and Vertical Gardens etc. He is the recipient of two prestigious awards:
Rashtriya Shiksha Ratna Award – 2007
Rashtriya Sanman Award – 2007
He is a lifetime member of EFSLE and also a Coordinator for its Gujarat – South Region.