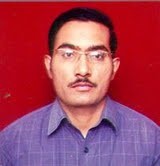 Dr. Nagender Singh Nathawat is presently the Principal of Shri Bhagwandas Todi PG College, Lachhmangarh (Sikar) and two times State Government nominated Member of Board of Management, Pt. Deendayal Upadhyaya Shekhawati University, Sikar. He has published a number of research papers in national, inter-national, peer-reviewed and refereed journals, edited books on ELT and English Literature. As a Principal he has contributed effectively in academic, financial, administrative and infrastructural development. He is registered as Ph.D. Guide and 02 of his scholars have been awarded doctorate degree under his guidance.
He has also published a book on Salman Rushdie entitled Major Novels of Salman Rushdie: A Provocative Reinterpretation for PG and Research Scholars. He is Patron of IGNOU Study Centre (2312) since July, 2013. He prepared and submitted NAAC-RAR Report of his college and conducted Re-accreditation (2 cycle) and in 4-point scale scored 2.62 (B Grade) by NAAC-UGC.
He is a member of Editorial Board of International Journal of Educational Research and Technology (A Quarterly International Peer Reviewed Journal of Education). He has presented a number of papers in various National and International Seminars and also Chaired the sessions. He has also organized UGC sponsored national conference. He has also been awarded Fellow Membership by Society of Education (U.P.). He is also one of the Coordinators of EFSLE for its Rajasthan Region.