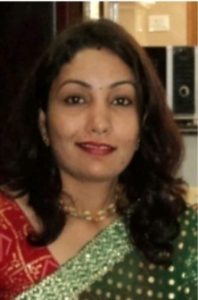 Dr. Jyoti Tripathi is working as Associate Professor in English at Gitarattan International Business School one of the reputed colleges of IP University, Delhi. Specialising in Communication Skill, she is committed to better facilitate student learning in both the areas of Language and Literature.
She was awarded with Ph.D in the year 2016 and her area of research is:  Representation of History: A Study of Chitra Banerjee Divakaruni's The Mistress of Spices, Salman Rushdie's The Enchantress of Florence, Amitav Ghosh's The sea of Poppies. She completed MA in English Literature from MDS University, Ajmer, Rajasthan in the year 2003 wherein she achieved above distinction marks in the paper entitled "Indian Writings in English". In addition to her scholastic achievements, she participated as an N.S.S. Candidate for serving the nation and obtained Gold Medal in cultural activities during her graduation.
She has a vast academic experience of nine years of teaching English Literature and Language to engineers, MBA, MCA and degree course students, ranging both from urban as well as rural backgrounds. She has presented/published papers on the themes akin to "Women Leaders & Development", "Aspects of Personality Development and use of Soft Skills", "The Palace of Illusions: Revisiting an Epic Tale", "Fictional Retelling of History: A study of Selected Novels as Postmodern Historiographic Metafiction" and  "Mapping History: Rushdie's The Enchantress of Florence" in national and international seminars and conferences. Along with this, she has attended numerous Seminars, Workshops and conferences. She has also delivered Extension Lectures at renowned institutions and been associated with a number of reputed libraries. She has been a coordinator for the committees like Personality Development workshops and Newsletter. Being ardent about education & learning, her professional interests include of teaching explicitly in the area of Communication, Grammar & Literature and developing holistic personality of students.
She is a lifetime member of EFSLE and also she has been appointed as one of the Executive Council Members (ECM) for its Delhi-NCR Region.