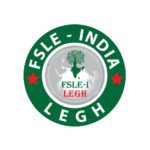 FSLEI-Admin/US-TG/19-1                                                                                        October 05, 2018
Notification
This is to notify that the panel proposed by FSLE-India President Rishikesh Kumar Singh entitled, "Ecological Crisis and the LEGH Movement: An Endeavor for Perennial Sustainability", has been accepted for the Thirteenth Biennial Conference of the Association for the Study of Literature and Environment (ASLE), to be held June 26-30, 2019, at the University of California, Davis.
Congratulations to all the selected panelists!
The panel organizer and chair of the particular panel is Rishikesh Kumar Singh, President, FSLE-India. There are SIX panelists selected:
     1. Shruti Das, Associate Professor, Department of English, Berhampur University, Berhampur, Odisha, India
Heterotopia of Crisis: Niyamgiri and the Dongria Kondhs
     2. Neenu Kumar, Assistant Professor, Aditi Mahavidyalaya, Delhi University, Delhi, India
Climate Change as Mirrored through Literature and Clifi
     3. Amod Kumar Rai, Assistant Professor, BPG College, Kushinagar, DDU Gorakhpur University, Gorakhpur, U.P., India India
Earth, Man and Nature vis-a-vis Paradise, Adam and God
     4. Sudhir Singh, Associate Professor, Govt. College for Women, Dept. of Higher Education, J&K, India
'Self as Space': LEGH and Patrick White
     5. Zameerpal Kaur, Associate Professor, Department of Languages and Comparative Literature, School of Languages, Literature and Culture, Central University of Punjab, Bathinda, Punjab, India
Environment and Ecology in Ancient Indian Literature
     6. Dushyant Nimavat, Associate Professor, Department of English Gujarat University Ahmedabad, Gujarat, India
Lessons from the Ancient Indian Culture and Indigenous People to Save Environment
[There will be a Respondent for the panel. However, it is optional. The Committee will decide about this further.]
For all the panelists:
ASLE will NOT be sending this email directly to panelists participating in pre-formed panels/roundtables/hybrid jams. However, subsequent informational emails from them about registration and other logistics WILL be emailed directly to all the panelists.
All the panelists are requested to mail their full paper by January 20, 2019. It should be noticed that delay in submission will denounce the claim for the grant. The full paper must be emailed to infofsle@gmail.com
All the panelists will be communicated further regarding their itinerary and accommodation.
We are thrilled to have you involved in the conference, very excited about the program we are assembling, and eagerly awaiting your presentation in Davis this coming June!
For further details please visit the website: www.fsleindia.org
Best Wishes,
Dr. Dilip Kumar Jaiswal
Managing Director, FSLE-India
Assistant Professor, University of Delhi